Prize Giving: Presenter's Speech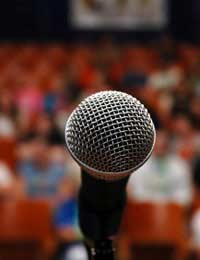 We all remember our school Prize Givings, when we sat through it all just hoping that this might be the year we got a cup, a book, or even just a mention. They're definitely emotionally charged things – a year's worth of hope, worry and endeavour boiled down to one agonisingly intense hour of suspense. It's small wonder that being asked to speak at them can seem a bit of a difficult "gig"!
The trick is to remember that you're playing to three quite different audiences, simultaneously – the kids, their parents and the teaching staff. Too much discussion on the latest youthful "must-have" and the pupils will love you, but you'll leave most mums, dads and teachers in the cold – and so on. Scattering enough juicy tit-bits for all three throughout your speech takes a bit of thought, but it's by no means an impossible task.
This template should help you get a general idea of some of the ways you can successfully engage with your audience and give you a few thoughts on the sorts of things you might like to say.
1. Introduction
The best Prize Giving speeches get going fairly quickly and catch the attention of everyone who's listening from the start. The Head Teacher, Chairman of the Governors, Head of the PTA or some other notable will have already given you a big introduction, so you don't need to begin by telling everyone who you are.
Acknowledge the people who are present
Say how honoured you feel to have been asked
Grab everyone's attention – make an apparently bold statement or set yourself a provoking question, to leave the audience intrigued to know how you'll answer it.
Example: School Governors, Headmaster, teachers, parents and pupils, thank you for asking me to come to present your prizes and I feel very honoured to be doing that today. I remember sitting through my own school Prize Days (a few years ago / all those years ago / long ago, when dinosaurs roamed the earth) and time after time, there was something that always bothered me. Why do we do this? I mean, what is the point of prizes?
2. Say Something Meaningful
We've all sat through those interminably dull Prize Giving speeches when it didn't matter if you were a parent, teacher or child – you had absolutely no idea what the old duffer on the podium was talking about! Try to say something meaningful that everyone can understand.
How does your life experience or job relate to schools and prizes?
What lessons did you learn at school that helped you at work, or what lessons have you learnt at work that would be useful to share?
Whatever you do, be interesting!
Example: When I was at school, there were some subjects that I wasn't very good at – they didn't interest me much. I was terrible at (maths / French / science / English) and I used to think – so why do I have to do it? It's not like I'm going to (be a maths teacher / live in France / work for NASA / be a journalist), so what's the point? In fact – as the teaching staff here may already have guessed – I spent a lot of my time at school asking "what's the point?" I must have been a really awful kid to have in your class! Looking back, with the benefit of a couple of (years / decades / Ice Ages) to reflect, I now get it, and it was probably the best lesson that school ever taught me – even if I had to have left school before I learnt it!
3. The Inspirational Conclusion
Follow your theme through and leave pupils inspired to study, teachers to keep teaching and parents to keep dreaming of those fantastic exam results to come.
Make your point clearly
Consider using a suitable quotation or create your own motto – something short and easily remembered
Tie up any loose ends – and answer your initial question if you haven't already.
Example: If you don't try things, you'll never know if you're any good at them – and you won't know if you like them. So try your hardest at everything and take advantage of all the opportunities your schooldays have to offer – and don't be too quick to give up. Remember the lesson Robert the Bruce learned from the spider, and always "try, try, try again." I began today by asking "what's the point of prizes?" I think the answer's very simple; they encourage us to try.
Well done – you've kept your audience interested and inspired; now all that remains is a whole lot of handshakes!
You might also like...