Award Acceptance Speech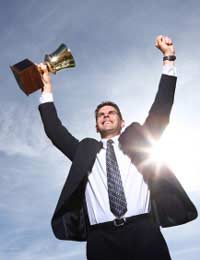 Receiving any kind of award is a great achievement, but for many people the prospect of having to make an acceptance speech is almost enough to put them off wanting to win one in the first place!
However, there's really no need to worry and you certainly don't have to end up sounding like an awful parody of the Oscars – thanking everyone and everything you can think of, including your best friend at primary school and his sister's goldfish!
Just follow a few tried and trusted rules and you'll be fine.
1. Your Introduction
Begin your speech with a few personal comments on how you're feeling, now you know you've won.
How pleased you are to have won
How important the award is
How strong the competition was
Example: Ladies and gentlemen, I'm almost lost for words. Even being nominated for (name of award) is an incredible honour, particularly given the extraordinary strength of the field this year, but to win against such strong competition is just amazing. I feel humble, but at the same time incredibly proud too.
2. The Thanks
Thank everyone who has contributed in some way.
Depending on how many people were involved, it can often be easier to talk about "the team"
If you do decide to "name names", make sure you get all of them; there are few things more guaranteed to generate bad feeling than leaving someone out – even unintentionally!
Don't forget the judges/voters
Example: With so many good candidates to choose from, the judges must have had a unbelievably difficult job – and I'd like to thank everyone who voted for (me / our group / the project). Very few things in life are entirely the work of just one person – and this is no exception, so I must also pay tribute to the enormous contributions made by (names / the rest of the team) without which, none of this would have been possible and I certainly wouldn't be standing here now. This award is as much for them, as it is for me, but – sorry guys – it's definitely going to be living on my mantelpiece not yours, so hands off!
3. An Interesting/Amusing Story
Briefly tell the audience something that happened in the course of doing whatever it was that won you the award. You might like to:
Pick an amusing or interesting incident
Avoid anything potentially embarrassing to your boss / company / colleagues / rivals
Consider telling a story against yourself, to avoid seeming too smug
Example: "I'm particularly pleased to have achieved this success – not least because it so nearly didn't happen. I'd gone to the station on the morning of the meeting in plenty of time to catch my train – only to discover that the times had been changed and the next train wouldn't be for another half-hour. So off I went – all indignant – to have it out with the staff, only to discover about thirty seconds into the conversation that I'd been looking at an old time-table; nearly three years old, as it happened. All I can say is that when you've made that much of a fool of yourself, it's hard to reclaim much dignity – and worst of all, I still have to buy tickets from the same lady. Mind you, she's been very good about it, but I know a wry smile when I see one!
4. Conclusion
Wind up your speech with a few well chosen thoughts on:
What winning the award means to you, personally
What it says about the industry/pastime/occupation as a whole
Why it matters
Example: Against such strong competition, I really do have to count myself lucky to win – but win I did – and on a personal level, it's a great feeling to be up here, with this award in my hand. Every time I look at it, I'll be reminded of this moment and how much it means to me. That said, we mustn't forget that awards are not simply about tonight's winners and losers; they tell us a lot about our (industry/pastime/occupation) too and for as long as there are awards like this one around – and so much good competition for them – then we've little need to worry about the future of (industry/pastime/occupation). I'm accepting this award for (myself/my team/my company) of course, but I'm also accepting it on behalf of my (industry/pastime/occupation) – and from where I stand, its future looks bright! I'm delighted to accept this award, and thank you all.
Now make your way back to your table and celebrate your success with colleagues, friends and family; you've earned it!
You might also like...
It's very helpful to all of us Thanks
shabby
- 1-Aug-17 @ 10:04 PM
.thanks for the guide lines in making an acceptances speech.
mae
- 11-Sep-12 @ 10:42 AM