Speech by Someone Seeking Election to Office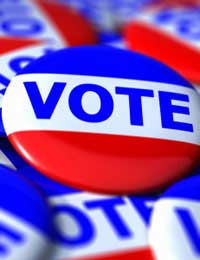 So you've decided to stand for office – good for you! Whether you're wanting to be the next secretary of your club, to join the Parish Council or you're hoping to be your constituency's next MP, one thing's for sure – you're going to need to be able to deliver a pretty decent speech.
For some Offices, you may only need to speak once, but for others, you may be called upon to speak a number of times and often to different audiences, so you need to keep the reason for the speech, and the nature of the group that you are addressing, in mind when you're preparing it. However, that said, there are certain key components that are never out of place and as the following template will show, you can modify them to suit any election occasion – big or small.
It may seem a little daunting to have to stand up on a platform and try to persuade everyone how worthy you are – but remember, people often vote for someone they like, as much as they vote for his or her policies. This, of course, is really good news for any prospective candidate, since you already are the world's expert on one of the most critical elements in your whole campaign – you – so it's time to polish up your own trumpet and start blowing it!
1. Make Your Own Introduction
Of course, someone will introduce you on the day, but we're talking about making a serious attention-grabbing impact here – so a simple "our next candidate is Mr Jack Jones" from the Chairman of the club just won't do! Even if you're really sure that whoever's acting as Master of Ceremonies on the day will do a great job, make sure you start to tell your listeners what an ideal candidate you are, in the first few sentences.
Don't labour the point or list everything you've ever done since kindergarten
Do use your name and the office you're hoping to win – it helps cement you in everyone's mind and gets them use to the idea of you in that role
Be amusing if you can manage it naturally, but avoid forced humour which can make you sound insincere
Example: Good evening, ladies and gentlemen; I'm Maggie Moore and I want to be Little Elder-under-Edge's next representative on the council. Having lived here all my life, I think I'm well placed to fight our corner – and as some of you have already pointed out, since I spent most of my childhood running around the village, it's fitting that, as an adult, I should now be running to be its councillor.
2. Make Your Pitch
Identify the issues that concern you and especially the ones that are likely to translate into votes. With very few exceptions, single issue candidates seldom win, so unless there's a need to campaign purely to stop a proposed nuclear waste dump next to the local school – and overwhelming public opinion supports you – you need to address a range of questions. However, don't go completely overboard or you could end up looking overly negative or – worse – too revolutionary. Above all, be confident, upbeat and positive – nobody votes for a whiner!
Set out the problems as you see them
Outline what you propose to do about them
Explain what the benefits would be
Example: Ours is a great club, full of wonderful, talented people. We all know that – but we also know that it's not without its problems. We could do with more money – who couldn't? We also need to attract new blood to ensure that we keep growing, so we can carry on doing what we do so well. Finally, there's no escaping that we have some difficulties over our venue. So what will I do about them, if you elect me?
We enjoy a lot of local support, and I feel we should capitalise on it with a series of fund-raising activities and a well-targeted recruitment campaign to encourage new members to join us. The venue question is undoubtedly the hardest – but I think now is the time to grasp the nettle and air our grievances, openly and honestly, with the hall's management committee. Then, if we cannot resolve the problem to everyone's satisfaction, we will simply have to find somewhere else; there are plenty of other places to try.
3. The Conclusion
This is the last chance you get to make a lasting impression – so use it.
Thank everyone for listening
Tell them what being elected would mean to you
Remind everyone of the importance of playing their part in the decision-making process
Example: Ladies and gentlemen, thank you for listening to what I have to say; I hope it won't be the last opportunity I get to discuss these serious matters with you. I know I'm the right man/woman for the job – so vote for me, Betty Briggs – and let's make a difference!
Well done – it's in the bag! Start preparing your acceptance speech.
You might also like...