Seconder's Speech of Support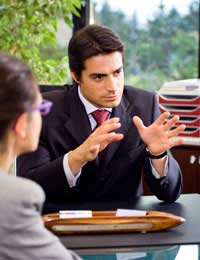 Many clubs, societies and official bodies require anyone standing for election to a particular office – and sometimes even just to become a member – to be formally "seconded" by someone. If you've decided to endorse a friend, colleague or simply someone you know as a candidate, you may be asked to say a few words to explain why you think that person would be suitable. It's an important job, particularly if there is strong competition for the role and you need to help sway opinion in the right direction.
These speeches don't have to be long – in fact they often work best if they're fairly brief but very focused – but they do have to be persuasive. Here's our guide to getting the outcome you want.
1. Who Are You?
Briefly introduce yourself (remember, this is about the candidate, not you) and explain why your opinion in particular should be taken into account.
Say who you are, and what is your interest in the proceedings.
Establish why the group should value your opinion of this person.
Begin to set the scene to sell your candidate to your listeners.
Example: I'm Jane Smith and I've been a member of the society for more than 15 years. I've seen a lot of changes over that time and seen it grow from the small local club that I first joined to the thriving organisation it is today. Having been a member for so long, and knowing where we have come from, I think I am well placed to look forward to the new opportunities and the new challenges the future holds.
2. Who Are They?
Tell your audience a little about the person you are seconding – talk about achievements, what manner of person she or he is – to paint a picture for those who may not be familiar with the candidate. If the person you're seconding has a long and enviable record of accomplishments, be selective and stick to the most relevant ones and equally, if he or she is well known to everyone present, there's little need to labour the point.
In what capacity do you know this person – how did you meet?
What has she or he done in life – at work or for the community?
Mention any relevant personal attributes.
Example: I've known John Brown for over 10 years, as both a colleague and someone I'm proud to call a friend. As many of you know, he has worked tirelessly to improve the provision of home care in the area and hundreds of our older residents have benefited as a result. Away from work, he has turned around the fortunes of his local under 11 team, and inspired a whole new generation of youngsters with his infectious enthusiasm for the game. All this makes it pretty clear to me, that if there's hard work to be done, then John's your man."
3. Why Them?
OK – it's serious sales-pitch time. Why, out of all of the candidates standing, should yours be the one? You need to sell your man or woman, but without going completely overboard and sounding like a very bad TV commercial for drain cleaner or washing up liquid!
What will this person bring to the position?
Why is she or he the right one for the job?
Finish with a rousing call for support.
Example: This job calls for honesty, integrity and compassion, coupled with a hard-headed ability to get things done. Everything that Mary has done in her life – at home, at work and in the community at large – stands as evidence that she has all of those qualities, and more. We face some big challenges in the years to come, and I can honestly think of no one better suited to steer us safely through those stormy waters than Mary. For all these reasons I whole-heartedly support her and urge you to do the same.
Well done, if they don't pick your candidate after that, it wasn't for any lack of trying on your part. Now all you've got to do is wait for the result!
You might also like...