Guest Speaker's Speech to Adult Group or Club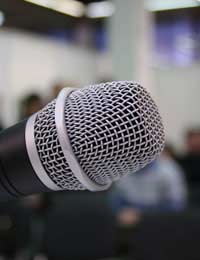 Most of the times in our lives when we are required to "say a few words" we're doing so because of the role we have to play in the proceedings of that day – as the groom, the proud parent or the grieving relative. Coming in as a guest speaker is something else entirely – your only reason for being there is to speak – so it calls for a rather different approach.
While it isn't the easiest job to do, remember you've presumably been asked because you have something interesting to say; the trick is to find an interesting way to say it!
First Things First
If there was ever a need to plan a speech carefully, write it out and rehearse it thoroughly, then it's this one. Whether you're speaking to a specialised gathering who share a knowledge of your subject, or setting out to bring something new to the group, however well you know your topic, make sure you've thought through what you want to say.
Decide on the main points or areas that you want to cover; this may depend a little on the amount of time available for your talk, but don't try to cram too much in. Aim to deliver just three points – and whatever you do, never more than five!
Speaking to a camera club about successful wildlife photography, for example, you might decide that the important points you want to get across are (1) the need to understand the plant or animal that you're trying to photograph (2) the importance of being really familiar with your equipment and (3) some of the difficulties you mightn't be aware of until you've tried to take pictures of small, nervous animals in the pouring rain – or large, belligerent ones either, for that matter!
1. Getting Started
No matter how fascinating your topic, or genuinely interested your audience, you need a good opening to kick things off – and you'll lose them faster than anything if you don't have one. For this kind of speaking, it's perfectly acceptable to just jump in without the usual round of thanks to the group for asking you to speak – though if you do use this approach, it's good form to say thank you at the end!
Start with a quotation or make a bold statement – though obviously nothing too controversial
Begin with your "closing statement" – and let them wonder what you're going to say to get back there
Pose an intriguing question or dilemma
Example: So, what do you do when the only thing between you and six tonnes of rapidly approaching – and distinctly unhappy – African Elephant is your favourite SLR and a 210mm lens? Run? Wave your arms and shout? Stand your ground and get the picture? Well, I don't know about you .... but I haven't a clue either – it's just one of those things I've always wondered about! Fortunately, as a butterfly photographer I often get to go to places just as exciting as the Serengeti and photograph things which are every bit as fascinating – but with none of the risks of personal injury that seem to accompany snapping anything larger. That isn't to say that this kind of wildlife photography doesn't have its own problems; it's just that they're a lot less likely to kill you.
2. Making The Main Points
Once you have grabbed the attention of the group, now's the time to elaborate on your theme with a few supporting stories or facts to back up the main points.
Keep things simple; good speaking is about getting your message across, not trying to make yourself look clever; remember, a little humour is always welcome
Don't labour things; even if the group isn't expert in the particular field, they won't thank you for seeming patronising
Adult audiences are usually polite and patient, but always be on the lookout for the glassy-eyes of boredom! If you think you're starting to lose them, perhaps it's time to move on to the next point.
Example: The trick is to be really familiar with your equipment – especially when you're trying to photograph things in the wild. If handling your camera isn't instinctive, you'll never get the picture. No matter how settled a frog looks while you painstakingly set up your shot, the moment you press the shutter, it'll be off! It took me a long time to realise that – and to prove it, I've probably got the world's largest collection of froggy legs and feet captured as the rest of the animal leapt out of frame.
3. Closing On A High
A good ending is what makes a talk really memorable, so try to make it snappy and relevant.
End on a positive note
Resolve any questions you may have posed
Say any necessary thank-yous
Example: Even in the middle of our busiest cities, there are so many opportunities to find out if wildlife photography's for you – so you really don't have to stare at that charging elephant down the barrel of a telephoto lens simply to find out! Ladies and gentlemen, it's be great having the opportunity to talk to you tonight; thanks for listening to what I had to say.
Well done; you've finished and everyone's intrigued – now take a deep breath and stand by to answer their stream of animated questions!
You might also like...