Runner Up's Speech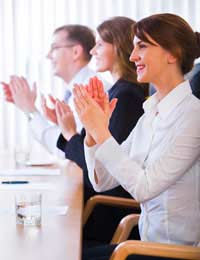 Coming second is always a bitter-sweet moment. You've done awfully well – but you didn't win the prize. Trying to put how you're feeling into words about that is difficult at the best of times, even if you're just talking quietly to a friend, but being asked to make a speech can often seem like rubbing salt into the fresh wounds of disappointment.
The runner's up speech is probably one of the hardest speeches to do well, but it's worth making the effort for one very important reason; it gives you a final opportunity to shine – and it's a really good one – so seize it with both hands!
No matter how bad you're feeling, how frustrated or upset you are about not coming first, a well crafted speech can help you salvage something from your defeat. You may stand up as "the loser" but get it right, and you'll definitely be sitting down a winner. Here's how to do it.
1. Set the Right Tone from the Start
The key to this part of the speech is to open well, engage with all of your audience and encourage listeners to want to hear what you have to say.
Be honest about your disappointment (no one will believe anything else anyway) and don't ever adopt an "it doesn't really matter" attitude – why were you in the competition if you really believed that?
Congratulate the winner – you don't have to go over the top, just don't seem grudging or bitter.
Briefly mention any other competitors or contestants.
Example: As you can imagine, ladies and gentlemen, I hadn't really hoped to be making the runner's up speech here today/tonight. I was definitively in this to win, so of course I'm disappointed that I didn't, but I suppose if you are destined to lose, then coming second against this particular group of competitors is quite an honour in itself. Of course I can only congratulate (name of winner/winning team), who as everybody knows, did even better.
2. Speak Well of the Day
OK – you've lost; nothing can change that, but you can still make people like you – even your opponents, however grudgingly – if you can show what a generous-spirited individual you are, however cut up you're feeling about defeat. Talk a little about the contest, the day and what it means to you.
A quick story/amusing incident/pithy observation will often go down well.
Whatever you think about the contest, the winner or the unfairness of the result, this is not the place to mention it. There's an old maxim, if you can't say something nice, don't say anything – follow it!
Briefly thank the organisers/officials; it's rude not to say something, but the real vote of thanks should come from the winner, so don't overdo things.
Example: It has been a hard-fought contest, and while I can't pretend that I'm happy about losing, it has been a privilege to take part – so I'd just like to say a very brief thank you to everyone involved in making it happen. In the end, the result was clear/close/a bit of a surprise, and/but we have a winner – and it wasn't me. I am reminded of what my old school reports so often used to say all those years ago – and I never realised what good advice it was at the time. "Must try harder".
3. Congratulate the Winner
This is probably the hardest bit of the speech to get right, but with a bit of care everything will be fine. The trick is to avoid coming over as a bad loser on the one hand, and going too far over-the-top on the other. A lot depends on the type of event or competition and how well you know your opponent, but as a general guide you won't go far wrong if you remember KISS – keep it short and simple!
Today is his/her day, so congratulate her/him. Again, you don't have to go overboard, but don't appear mean-spirited, even if you loathe the winner(s) on a personal level. This bit is, of course, a lot easier if you actually quite like them!
What you really think about them isn't important and in any case, no one wants to hear it now, so keep it to yourself.
Keep it short and let the winner have his/her moment.
Example: That of course, leads me on to (name of winner). She/he has been a great/worthy/interesting opponent and although I'm green with envy at his/her success, I can only offer my congratulations on the victory. Today, ladies and gentlemen, belongs to (name of winner) and you've all listened to more than enough from me, so now it's time for the winner. Thank you.
Well done – now sit down and start thinking about that winner's speech for next time!
You might also like...
I need help writing a speech for runner-up ranger of the year (Police Rangers) I don't feel right doing it seeing as it's only runner-up but I've been told I have to, it's due tomorrow?? Please help me!
Nigel
- 11-Dec-14 @ 11:53 PM