Winner's Acceptance Speech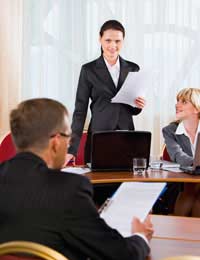 There aren't many feelings to rival winning something, whether that's a sporting competition, a business trophy, a political contest or a talent contest, so congratulations, well done – you won!
Once the euphoria of the moment dies down a little, and the realisation that you've actually done it begins to creep in, you know there's just one last thing you're going to have to do; make that speech. For lots of people, this can seem a horribly daunting prospect – but it really doesn't have to be; just follow these simple guidelines and you'll be able to revel in your big moment – and make your friends and family proud too.
1. A Good Beginning
Get the ball rolling with some opening comments on how you feel, now the votes have been counted, the whistle blown or the sales figures finalised and everyone knows you won. You might like to include a few words about:
How it feels to have won.
Why winning this particular prize/award/contest is so important.
The other team(s)/candidates/contestants.
Example: Ladies and gentlemen, you have no idea how pleased/delighted/astonished I am to be standing here today/tonight as the winner this contest/election/competition. I was pleased/honoured/terrified enough when I realised that I was going to be taking part at all, but to win after such a keen contest and against such a strong group of fellow competitors/candidates is a particularly special moment for me and I'm glad you're all here to share it with me.
2. An Interesting Middle
Sharing a particularly meaningful incident or amusing story that took place along the way with your audience can often work very well in these kinds of speeches, since everyone is likely to be on the same wavelength and understand instantly what you're on about. The golden rules are:
Poking a bit of fun at people is fine, but don't embarrass anyone or hold them up to ridicule.
Don't be too pompous or smug; a story against yourself can make even bitter rivals like you a little better (though probably somewhat grudgingly!).
Do pick something simple; no one will want to have to work too hard at understanding you.
Example: I suppose I can now reveal the real reason why I arrived four hours late and nearly missed last night's meal altogether. As I know some of you have long suspected, I am a bit – well – careful with my money and when the new update for my sat-nav came out, I thought it was a bit pricey, so I had a quick look on a certain well-known internet auction site. A few clicks later, and the nice man from Shanghai had sent me all I needed. Now roll forward to last night. "Newport" I typed and off we went. We came to the M6 – "turn right" it said. It seemed a bit strange, but then I thought maybe there were problems around Birmingham and this thing knew best. I turned right and carried on doing as I was told until the penny eventually began to drop that I was going to end up in Scotland, never mind Wales, if I didn't turn around soon. To cut a long story, I'd been sent the American version; I was going to Newport, alright – Newport, Rhode Island! They say "there's an app for that" – but it's probably best not to get yours off eBay!
3. Don't Forget to Say "Thank You"
Everyone likes to feel appreciated and part of the event, so do remember to thank the people who had a hand in your success or helped to organise the competition or event.
Try not to miss anyone out – it's a sure-fire way to upset people; if there are too many names to mention everyone, opt for "the team" or "the group."
Do sound sincere; this isn't the Oscars, so you don't have to thank everyone you've ever known right down to your pet hamster!
Thank the organisers/judges/match officials/voters
Example: I think you'd all agree that we've had a wonderful day/event/contest and that took an awful lot of organising, so a big thank you to (names)/everyone involved in making things go so well. Thanks to the caterers/entertainment/referees/vote counters too, for all their hard work – and to the other candidates/contestants/teams for making it such a good event. Finally I've got to say thank you to (names)/my team. This is their win as much as mine – I'm just the lucky so-and-so who gets to keep the trophy/award/gong!
4. Finishing Well
You've done all the hard parts, now all you need to do is wind up your speech with a few inspiring thoughts.
What does this say about the sport/industry/hobby?
Why does winning matter?
What about the future?
Example: It has been a good/difficult/strange time for our sport/industry/hobby but I think it's days like this that really bring out the best in all of us. I know that sounds easy for me to say, standing here, clutching this award, but I really mean it, there is always camaraderie in the competition and respect in our rivalry and long may that remain true. Winning something like this is great not just on a personal level, but also because it inspires us to keep on doing what we do, to try that bit harder and ultimately to be that bit better. I'm honoured to accept this award and I'll look forward to seeing who will be standing here in my place, this time next year.
These speeches don't have to be long (in fact it's often best if they're not!), nor do they have to be dazzlingly clever or side-splittingly funny (though, of course, they can be if that's the sort of person you are) and no one's expecting Shakespeare. Just start and finish well, say something interesting in-between – and don't forget all the necessary thanks – and you'll be home and dry. Enjoy your win!
You might also like...