Silver Wedding, 25th Anniversary Speech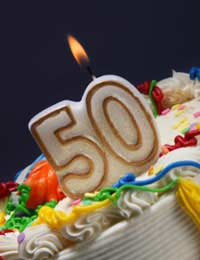 Celebrating your Silver Wedding anniversary is a great achievement. Even if you are not the most confident public speaker, your party guests will be pleased to hear you say a few words, imparting your wisdom on how you and your husband/wife have reached this milestone.
Whatever type of Silver Wedding anniversary party you are hosting, or attending if perhaps your children have organised it, it will really add to the occasion if you are able to make a short speech in front of your guests.
There is no reason to be nervous because all your guests will be positive, happy and wishing you the best of luck – this is not a crowd that you have to win over!
The best piece of advice may not initially sound like a good idea but, please, do not make any silly jokes in your speech. Light humour is fine, if that's your style, but it is too easy to make some sexist, old-fashioned joke about married life just to get a laugh or hide your embarrassment at public speaking, but why not allow yourself to make a short but heartfelt speech instead?
Template for a Successful 25th Wedding Anniversary Speech
You do not need to speak for very long, but you do need to make sure that you thank the relevant people and make a fuss of your other half!
This is a real opportunity to be romantic – you don't have to be cheesy or over the top, but it is a chance to say something romantic in front of your friends and family, some of whom may have been at your wedding.
1. How To Start Your Silver Wedding Speech
Start by thanking everyone and cover the reason that you are here.
Thank everyone for coming
You are proud to have reached your 25th wedding anniversary
Thank whoever organised the party
Example:It is wonderful to stand in front of so many happy, familiar faces; many of whom were with my husband/wife and me when we made our vows twenty five years ago. Thank you all for being with us this evening and helping to celebrate what is a really important milestone in our marriage.
2. A Suggestion For Suitably Romantic Speech Content
Now is the time to be romantic – say how wonderful your husband/wife is and how much they mean to you; talk about your children and family; say how you are proud of him/her and your marriage. A good way to stop the speech being over the top is to recount something about your wedding day, especially as there will probably be people there that remember it – this helps the speech feel inclusive and not too private.
Say what your husband/wife means to you
Recount an anecdote from your wedding day
Example: I can honestly say that the last twenty five have been the happiest of my life. I thought I was pretty happy before I married (name), but we have worked hard to create a partnership that has allowed us both to grow and flourish more than I ever thought possible.
Together, we have built a strong a loving family – our children, (name/s) have been an almost constant joy in our lives and we continue to enjoy each others company after all these years.
Some of you may remember our wedding day and the words (name) and I said to each other in front of you. I am deeply proud to say I feel the same way and (name), I would happily marry you all over again!
3. How To End Your Silver Wedding Speech
This is long enough for you to convey your message, although you may wish to expand on any particular detail of your family or wedding day, if you would like to talk for longer.
Raise a toast
Wish your husband/wife many more years of shared happiness
To finish your Silver Wedding anniversary speech, simply raise a toast. You can make it personal or more inclusive.
Example:I hope you all enjoy the rest of the evening. I would like to raise a toast to my wonderful wife/husband and say thank you to her/him for making me so happy. Cheers!
You might also like...
I have to make a speech for my cousin's diamond anniversary and would like a sample speech as I don't know where and how to start.
Marlene Dique
- 10-Jan-21 @ 12:14 PM
I need some samples or advice on my speech for my sisters 25th anniversary
I need help in writing a speech for my best friends 25th wedding anniversary
urvi
- 29-Jan-20 @ 4:30 AM
I need a sample of speech or verse for a friend's silver wedding anniversary. Please help
Chikmith
- 21-Jul-19 @ 10:42 AM
I have to recite a speech or poem for a friend's silver wedding anniversary. Please advise
Chikmith
- 21-Jul-19 @ 10:40 AM
I have to talk something for my friends 25th wedding anniversary tomorrow 15th June.... Anybody can help me to make a small talk in malayalam..With some joke
Saju pulparambil
- 14-Jun-19 @ 8:15 AM
Im celebrating my silver wedding on 22May 2019. would you please give me a speech to say a few words for silver wedding ? thank you , Agnelo Rodrigues
aggie
- 14-May-19 @ 5:35 AM
I m celebrating my silver wedding on 22 of May2019. can you please give me a speech to say a few words on my silver wedding ? thank you , Agnelo rodrigues
aggie
- 14-May-19 @ 5:32 AM
I am having my 25thwedding anniversary in July this month. Please help me with a sample of speech.
I would like a speech for hosting my parents silver jubilee anniversary
Kriti
- 21-Feb-19 @ 5:23 PM
I am giving a 40th anniversary speech to my aunt and her husband. I need help. I need samples. Thanks
Donchin
- 13-Dec-18 @ 12:12 PM
i would like to see some samples of 25 wedding anniversary speeches. I will be giving a speech for my best friend 25th anniversary in a few days time.
Gaza
- 31-May-17 @ 8:08 PM
i would like to see some samples of 25 wedding anniversary speeches.i will be giving a speech for my best for my best friend coming up soon. I would like to read some speech so i can know how to put mine togetger. looking forward to hearing from you.
samie
- 18-Jan-17 @ 10:43 PM
speech on 25 th wedding anniversary
deepa
- 11-May-16 @ 12:58 PM
i want a help in ancaring scriptfor 25 th anivarsary
manish
- 25-Feb-16 @ 4:50 PM
Like togive a thank you speech
Sunil
- 12-Feb-16 @ 12:53 AM
I have to raise the toast for my brother
girly
- 3-May-15 @ 3:18 AM
@Moussa. We hope this one helps!
GreatSpeech
- 9-Apr-15 @ 9:48 AM
i need a sample of a 25th wedding anniversary speech
moussa
- 6-Apr-15 @ 8:56 PM