Christening or Naming Ceremony Speech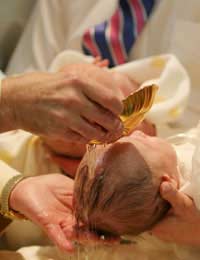 A Christening or naming ceremony is a really important moment in an infant's life – and it's a pretty emotionally charged one for the youngster's parents, siblings, grand-parents, family and their respective circle of friends too!
Welcoming a new person into the fold is one of those very special rites of passage, and if you're going to speak at a Christening or other naming ceremony, you have a very special role to play and whatever your own personal beliefs, everyone agrees that a name is important.
1. Getting Started
Thanking everyone for coming – especially anyone who has come a long way to join in the celebration – is a good way to start off.
Thank the guests for coming
Thank the priest or celebrant for the ceremony
Say how important a moment it is for the new infant being named/Christened
Example: Thank you all for coming to be with little (name) on this very special day in his/her young life – and a special thank you to everyone who has travelled a distance to share this moment with us and our daughter/son. Thanks to (name of priest / vicar / celebrant) too, for such a beautiful ceremony – I'm sure we'll all take his/her (insightful / wise / inspiring/ thought-provoking) words away with us, and ponder on them.
2. Parents, Siblings And Family
It's important to remember that, although this is the new arrival's day, he/she is part of a family – and recognising this simple fact can help avoid an awful lot of sibling jealousy later!
Mention any brothers and sisters by name; siblings need to feel that they haven't been ousted by the new arrival
Include the wider family – and special close friends
Establish the family that the youngster has been born into
Little (name) doesn't know it yet, but he/she has joined a great family. Mum (name) and dad (name), siblings (names), grandparents (names) and all her/his other relatives are just waiting to get to know this little bundle who has so recently joined them all. He/she is going to be a wonderful addition to the family – and she/he is never going to lack for love, help or support. He/she is a much wanted new (son/daughter) for (parents' names) and much loved (brother/sister) to (siblings' names). He/she is indeed a lucky child.
3. Looking To The Future
The whole of this little infant's life stretches out in front of him/her, so it's appropriate to speculate on what might lie ahead before reminding everyone of their duty to do all they can for the youngster and then wishing him/her the best of luck in her/his journey through life, wherever that may lead.
Talk about the endless possibilities for the child
Discuss how everyone can help this new little person to grow and thrive
Propose a toast to the child's health and happiness
Example: At times like these, you can't help but think about this new little person that we've all just witnessed being (Christened / named) and wonder what sort of life will she/he have. What kind of person will he/she become? Will she/he be a rocket-scientist or an athlete? Find a cure for the common cold, or be the next Prime Minister? The brilliant thing is, nobody knows? Right now, there's not a single one of us here today who has the slightest clue as to what little (name) is going to do with his/her life, or what she/he will achieve. Isn't that just brilliant? He/she is a blank canvas – a clean slate – and we all get to watch her/him write whatever he/she wants to on it. And yet, important though this is, what's much more important is that she/he is happy. Perhaps that's where we all come in; we may not be able to help him/her decide what career to follow, we certainly can't write the story of her/his life for her/him, but each one of us can play our part in making sure he/she's loved, cared for and above all else, happy. Ladies and gentlemen, please raise your glasses to (name) and join me in wishing her/him a happy, healthy childhood and a happy, healthy life!
A well-delivered speech at a Christening or naming ceremony won't mean anything to the youngster himself/herself, of course, but it will be greatly appreciated by the infant's parents, relatives and other guests – and there's no better way of saying "hello and welcome" to any new little person.
You might also like...
That is much impressive and a good outline for delivering a speech in a naming ceremony . I am an upcoming M.C and I like the guidelines given. Thank you.
MC Quola
- 16-Sep-15 @ 3:32 PM
That was a wonderful speech. It's gonna mean a lot to many people out there especially the infant's family
Jasmine
- 6-Aug-11 @ 3:23 AM