Ruby Wedding, 40th Anniversary Speech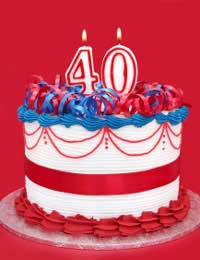 Making a speech for your Ruby Wedding anniversary is a great opportunity for you to make your husband or wife feel special in front of friends and family. You do not need to go over the top and it is quite likely that other people will want to speak too, but if you prepare a few heart-felt words, it will help turn your party into a night to remember.
Don't be daunted by this task because all the guests at your party will so impressed that you and your husband or wife have managed to reach this impressive milestone that it is all you need to do to say a few words.
Preparation for your Ruby Wedding Speech
It is a good idea to be aware of who your audience is going to be and who else is going to be making a speech. It is likely to be a very mixed crowd, with young and old and everyone in between, so it is better to make a romantic speech than one with ill-advised jokes on wives and mother-in-laws!
If you do not feel comfortable being overly-romantic, there are a number of speech techniques that would be appropriate here and would still show your feelings. These will be suggested throughout the template.
1. Introduction
Start your Ruby Wedding speech by thanking everyone for attending, especially those who have travelled a long way to be with you, and then say something about the occasion.
Thank your party guests for attending
Mention if anyone has travelled a particularly long way to be with you
If appropriate, thank whoever organised the party (i.e. your children)
Point out if there are any new babies/engaged couples/other family details
Say how important the day is to you
Example:Thank you all for being here this evening to share this special occasion with my wife and me. I would especially like to say to Derek and Judith how much we appreciate the distance you have travelled to be with us.
Our children, James and Rebecca, have done a fine job organising this party and we would both like to thank them very much for marking our anniversary so beautifully. This day is very important to me and I would like to say a few words to illustrate that.
2. The Main Body of Speech
Now is your chance to say something beautiful. You could use a reading from your wedding service, or talk about how you felt on your wedding day. Perhaps you could use the initials of your wife's name to spell out what you feel has been important to your marriage over the years. 'On this day in history' type speeches are also good, especially if there are more people of around your age.
Say something romantic
Talk about your married life
Make a reading from your wedding
Recount a detail of your wedding
Talk about your family
Example: When Mary and I got married on that beautiful sunny day 40 years ago, I could not have dreamt that our married life would be so wonderful. Even with the ups and downs that life throws at you, Mary and I have been able to make a strong partnership that has seen us through the darkest days. James and Rebecca have been constant sources of light in our lives and, as they go through life with their own families, they make us proud and happy every day. I would like to take this opportunity to ask Mary's bridesmaid, Margaret, to read the poem she read on our wedding day….
3. Conclusion
You can end the speech by thanking your guests and saying that you hope they will have a lovely evening. Raise a toast to your husband or wife and thank them for forty happy years.
You might also like...