Father of the Bride Speech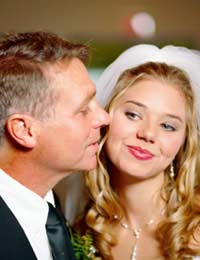 Whoever said "time flies" got it about right. It hardly seems five minutes since you were watching your little daughter at her first school sports day and now she's all grown up and about to be married!
All those whimsical thoughts about her wedding day that have gone through your mind since you first heard the immortal words "it's a girl" are now poised to become a reality and all that's left for you to do is not fall over your own feet as you walk her up the aisle – and make your "Father's" speech.
The good news is, the pressure's largely off you. Although your speech kicks things off and to some extent sets the tone, you aren't expected to be uproariously funny – and you are allowed to wallow in a bit of unrestrained pride over your "little girl" – which should make writing it fairly easy.
Father Of The Bride Speech Template
Over the years, a fairly successful general template has emerged which allows "dad" to cover the important duties of his role and get the second half of the big day rolling. If you stick to it for the most part, adapting it where necessary, you shouldn't go wrong.
1. Opening Lines/Introduction
The traditional beginning of the Father of the Bride Speech thanks the guests for coming and anyone who has made a financial contribution to the cost of the day.
Make special mention of any guests who have travelled a long distance
These days the bride and groom often pay or help pay for the wedding; if appropriate, say so
Include some general remarks about the weather and the ceremony
Thank the vicar/registrar/caterers/florist etc. for their efforts
Example: Ladies and gentlemen, I'm delighted that so many of you were able to be here to share this special day with (bride's name) and (groom's name); thank you all for coming. I know that (some / many) of you have come a long way, especially (name/s) who (came all the way from the Outer Hebrides / flew in specially from Australia).
There was a time when the cost of all of this would have fallen on me – but, while I wouldn't want to stint on my daughter's big day, I'm glad to say times change. I think you'll all agree, today has been wonderful – but it wouldn't have been possible without (the generous help of (groom's) parents (names) / a big contribution from the (bride) and (groom) themselves) and I'm glad for the chance to say a public 'thank you' to them.
The weather couldn't have been (better / worse) if it had tried and I'm sure the (blue skies / pouring rain) will be something we'll (remember for years to come / soon forget all about), and the ceremony itself and its setting were perfect – so thanks to the (vicar / registrar / caterers / florist) for that.
2. About The Bride
This is where you're allowed to go all sentimental!
Say how beautiful the bride looked
Tell your daughter how proud you are
Enjoy some reminiscences of your daughter's childhood/life
Example: Now, I know I'm her father, so I'm probably just a little bit biased, but I don't think I have ever seen a more beautiful bride than (bride's name) today; the saying 'as pretty as a picture' is a bit over-used, but I'm sure you'd all agree, she really is. I'm just so proud of her – and so proud to be her father. Like all little girls, she's had her ups and downs. I remember the time when ........
3. About The Groom
Welcoming the groom (and his parents) is one of the most important aspects of the speech; done well, it can guarantee good inter-family relations for years to come, so it's worth getting it right!
How pleased you are your daughter has married him
What a great chap he is and how proud his parents must be of him
You're glad to welcome him as your new son-in-law
Example: Like any father, as (bride's name) got older, I often wondered – and worried – about what sort of man she'd marry, but I really didn't need to, because in (groom's name) she's found a really good man, who I'm sure is going to make a fine husband. Mr and Mrs (groom's parents) must be rightly proud of their boy – he's a real credit to them; I know I'm glad to have him as my new son-in-law.
Toasting The Happy Couple
Your final duty is to wish the newlyweds all the best for the future and propose a toast to their health and happiness.
Example: Well, that's quite enough from me. I know that both (groom and best man) have some very entertaining stories that they're dying to share with you, so let me just close by asking you to raise a glass to the health and happiness of the happy couple. Ladies and gentlemen ......... I give you, the bride and groom.
Now you can sit down and relax; the rest of the day is yours to enjoy!
You might also like...