Engagement Party Speech: Toast to Couple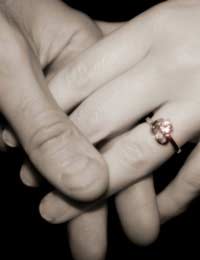 Although not every couple chooses to have an engagement party, they are becoming ever more popular and as a result, there's a growing chance that one day you'll find yourself having to make a short speech and toast to the couple.
Whether you're the father of the future bride, destined to be the best man or one of the couple's really good friends, the engagement party toast is an ideal way to congratulate the happy couple as they make their first steps towards marriage.
Follow The Golden Rules
Engagement parties range from the informal atmosphere of a gathering of good friends, to considerably more formal affairs and the style and tone of the toast will inevitably reflect this. However, there are some golden rules to help you plan that perfect toast.
Aim for a speech that's friendly, supportive and fun
Make sure you don't cause any offence, embarrassment or hurt feelings to anyone who may be present (including the "ex" of either party)
Steer clear of "in" jokes or anything overly suggestive – especially if you're a friend of the couple and don't know the rest of the group well
Keep it short – and light; however formal the party, a full-on wedding speech isn't called for
1. Getting Started
How you begin depends on your relationship with the couple, but in general you might like to include:
What you thought when they first started seeing each other
How you felt when you first heard about the engagement
Why you think they make a good couple
Examples: (As father of the bride to be) I wasn't too sure about John, when he first started going out with my Emily – but then I wouldn't have been sure about any boy dating my daughter! Since then, I'm happy to say, I've got to know him a lot better and I'm delighted that he has popped the question – and overjoyed that she said "yes".
(As best man to be) When John told me he was going to ask Emily to marry him I have to admit, I was amazed – not that he was going to propose – but that he'd taken so long! I'd known they were perfect for each other from the first time I saw them together.
(As a friend) We all knew it was pretty serious when Emily wasn't always quite so available for "girls' night" – and when we met John, we could understand why! He's a great guy and she's a great girl, so it's not much of a surprise that they make such a fantastic couple.
2. Sharing A Few Thoughts
Brevity is the essence of a good engagement party speech, so quickly share a few thoughts or anecdotes with the rest of the guests – but make it interesting and fairly snappy.
Reflect on how their happiness has grown over their courtship
Share some hopes for their future
Examples: (As father of the bride to be) I've seen a big change since a rather nervous John first sat in my living room one Saturday evening, waiting for Emily and all I can say is that anyone who can make my daughter that happy, is alright by me!
(As best man to be) I've known John a long time and I'd have to say I don't think I've ever seen him happier, and with a great wife-to-be like Emily, I think their future's going to be a very happy one indeed!
(As a friend) They say every girl knows "the one" when you meet him; well I don't know if that's true for all of us, but Emily certainly knew hers when she saw him; the pair of them are made for each other – and it's hard to imagine a better reason to get engaged than that.
3. Propose Your Toast
Finish off with some warm, heart-felt word of encouragement and support, before proposing your toast.
Example: You only have to look at these two to know they're right for each other – the way they look together, the way they laugh and smile. It's there in everything they do – and don't they make a lovely couple? So I'd like to propose a toast to the two of them; please join me in wishing them all the happiness and success in the world. To John and Emily – congratulations!
Well done – enjoy the rest of the party; you've a bit of time before you need to start planning your speech for the wedding.
You might also like...
@Squilla. Thanks for the compliments - we hope your speech goes well!
GreatSpeech
- 10-Oct-14 @ 2:35 PM
this was a best guide to write an engagement speech for my best friend, thank you very much. we will be having her wedding soon and i will look for tips here thank you very much :-) :-) :-)
Squilla
- 10-Oct-14 @ 12:36 PM