Groom Wedding Speech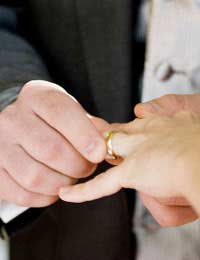 The groom's speech is a new husband's first official duty – and getting the tone right can be difficult. You'll want to let the world know how happy you are, but at the same time you don't want to appear too sentimental to all your mates!
It can be a difficult balancing act to strike, but with a little thought, it's perfectly possible to leave nobody in any doubt about how you feel – without sounding too "wet".
Template For A Great Groom's Speech
There are some things which, by tradition, any groom's speech should include and the following template will give you an idea of who you need to mention, the sort of structure to use and a few examples of what you could say.
1. Introduction and Getting Started
Begin with a few important "thank-yous".
Thank the father of the bride for his speech
Thank your guests for coming and for their wedding presents
Thank both sets of parents for their help
Give both mothers a small "thank-you" gift
Example: I just like to start by thanking (father of the bride) for those kind words and I promise I'll (always do my very best for his daughter / try to live up to his high opinion of me / prove him wrong) over the coming years. I can't believe how many of you managed to be here with us today – and in some cases, from so far away. Looking round at you all, it makes us realise what a great bunch of family and friends we really do have – and how generous too. So, thanks for coming and thank you, everyone, for all the wonderful presents.
I'd like to say a very special thank-you to both sets of parents; of course we wouldn't be here today without them, but it's more than that. As one day we hope to find out for ourselves, parenting isn't an easy job and I think you'll agree that both (bride's) parents and mine have done a pretty fine job in helping us get to this point in our lives despite (all the usual problems of growing up / my attempts to thwart their best efforts along the way / their inability to grasp the vital importance of Facebook, Ipods or peer-to-peer file-sharing). So we'd like to give (bride's mother) and (groom's mother) these small tokens of our thanks and love, for all your help and support over the years – not to mention your recent sterling work as unpaid wedding planners!
2. About Your Wife
A few well chosen words about your new wife, and your future together.
Tell her how beautiful she looks
How happy you feel to be married to her
Your hopes for the future
Example: (Bride's name), you always look beautiful, but I don't think I've ever seen you look (lovelier / more radiant / more gorgeous) and I'm just so (proud to stand here next to you / pleased I don't have a hangover so I can actually see how lovely you look / sorry you don't have a hangover so you can't see what a dreadful mess I've made of tying my tie).
I've said "thank-you" a few times already, but so far I haven't thanked the one person in all this who deserves it most – so (bride's name) thank you agreeing to go out with me, thank you for saying "yes" and, most of all, thank you for (becoming my wife today / ignoring your mother's warnings / being so understanding about that unfortunate incident with the stripper; I honestly thought she was a real police-woman). I promise I'll do my very best to make sure you don't ever regret any of those decisions and I'm so happy to be facing the future with you as my wife.
3. Thank Best Man
Finally, a few words of thanks for the rest of the bridal party, before proposing a toast to the bridesmaids.
Example: You've all met (best man) already. When it comes to picking your best man, you need to choose someone resourceful who can be relied upon to sort things out efficiently without turning everything into a drama. I am fortunate to know such a man – but sadly, he (refused / had to join the Foreign Legion), so I ended up with (best man) instead. No, seriously, (best man) has been a great best man – despite (my awkwardness / his hangover / leaving me handcuffed to a lamp-post overnight). Thanks, mate.
5. Bridesmaids Gifts and Toast to the Bridesmaids
Thanks also to the lovely bridesmaids. As well as looking so gorgeous today, I know they've been a great support to (bride) over the last few weeks, giving up so much of their time to help make this day special for her. I just hope that now all that planning is over (they enjoyed their day too / the local wine shop can stand the sudden drop in sales). Your support has been immense, and we've some gifts to give you later as a small "thank you", but first, could I just ask everyone to join me in raising a glass ....... ladies and gentlemen, I give you the bridesmaids!
Now sit down and try to relax; remember, whatever the best man says next, smile – you can always get even later!
You might also like...
I like the helpful information you provide in your articles. I will bookmark your weblog and check again here regularly. I'm quite sure I will learn lots of new stuff right here! Good luck for the next!