Bride Speech: Tips and Template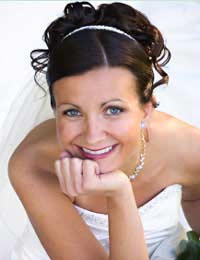 It is becoming increasingly popular for brides to make a speech on their big day. Although it is not traditional, as modern weddings see more varied circumstances on the day and surrounding the wedding, the bride making a speech is a lovely way to say a few words that may otherwise not get said.
As many brides may have divorced parents, step-fathers or perhaps deceased fathers, making a speech can be a suitable way to deal with what can be a difficult protocol.
It is also a perfect opportunity to let the groom be the centre of attention for a couple of minutes. Grooms often get a bit of a tough ride during the whole wedding frenzy because everyone focuses on the bride, the bridesmaids, the mother of the bride…heck, even the father of the bride gets a special role, so the bride can make sure she allows the groom to have his moment in the spotlight, too.
Tips for A Bride's Wedding Speech
Keep it brief. The bride's speech will usually come after the groom, best man and any other speeches, so guests are likely to be a little bit 'speeched-out'. Remember that everyone is rooting for you. You don't have to prove yourself because you are in a room of people that love you.
Don't worry if you get upset. Although it's better to leave any really sad stuff till the end, or practise so many times that you don't get upset, a little tear is fine.
Don't be crude - children and grandparents will be present so ensure you speech is suitable for all sensibilities
Speak slowly and clearly. You always talk more quickly when speaking in public, so take a deep breath and lift your chin so your voice projects across the room.
Template for A Bride's Wedding Speech
It is a good idea to start by acknowledging that it is unusual for a bride to make a speech on her wedding day. Example: I know it is unusual for a bride to make a speech, but I wanted to make sure that I told you all how much this day means to me.
2. Ideas for the Content of your Bride's Speech
Say how happy you are to be marrying your husband and perhaps something about how you met or how your relationship works. Say thank you to the people who have made the day possible. This usually means the people who have paid for the day, often including the bride's parents, the groom's parents and the couple themselves. You could also mention your chief bridesmaid or bridesmaids now.
Say how you and your husband met
Say how happy you are to be Mrs Williams (change name as appropriate!)
Thank the people that have contributed to the wedding
Thank you bridesmaids and say how beautiful they look
Example: Today has been the perfect day so far. I have married the man of my dreams and I want to thank him/name of groom for making me his wife. I would like to say how much I appreciate the help of my parents (name and name) and my new in-laws (name and name) in making this such a wonderful day.
3. Conclusion
Finish by saying that you hope the rest of the evening will be enjoyed by everyone and that this celebration marks the beginning of your married life. If you wish, you can also mention anyone that has not been able to attend, either people that have passed away or because of serious difficulties. Do not make it too sad, as this is a positive time, but it can be important to mention such people at the opportunity.
Say you hope everyone has a great evening
Mention anyone that could not be with you
Say how excited you are to start your married life
Example: I'd like to raise a toast to my dearly loved grandmother/father, who would have loved to see this day. Cheers, (name). I'm so looking forward to married life with my new husband (name) and thank you all for sharing this day with us, especially those who have travelled long distances to be with us. Now that we've enjoyed our lovely meal, (say thank you if members of the family/friends contributed), we have some music and dancing.
You might also like...