Top Tips for Speaking at Sad Events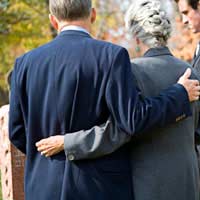 Speaking at any sad event is always a difficult thing to do, whether it's the memorial to someone who's lived a long and full life, the funeral of a child or a goodbye to a well-liked colleague.
Hard though it may be, if you've been asked to speak on such an occasion, it doesn't need to seem an impossible task. Follow these few simple tips and you can really help everyone involved through one of the worst days of their lives.
Be A Friend
Possibly the most important part of speaking at any sad event is to be a friend as much as a speaker – someone people can relate to – whatever your real relationship may be with those who are affected. Any bereavement or loss is a bewildering, unsettling and emotional time and it's the job of anyone making a speech at these times to recognise this, and try to help everyone concerned through the day.
Try to remember this, both as you write your speech and then on the day, as you deliver it; it's an important role to play.
Decide On Your Approach
If you have been asked to provide the main eulogy, you may be a little confused as to what's expected of you. The trick is to decide early on whether you want to catalogue the person's life and achievements – rather like they do in newspaper obituaries – or provide a more informal and personal view.
It really doesn't matter which you pick and either approach will make a very fitting tribute. Give it a little thought and decide which you feel most comfortable with – and then stick with it; don't try to do both.
Include Everyone
Many of the people you'll want to mention will be obvious – parents, spouses, close family or best friends – but do try to include as many people as you can; everyone there is feeling their own sadness or loss, so try to acknowledge the fact.
It can be well nigh impossible – and it's often not desirable – to try to 'name-check' everyone, particularly for the likes of especially well-attended funerals, but once you've made sure you've mentioned all the major attendees, do at least pay tribute to the rest. You don't have to make a big song and dance about it; something along the lines of – "and all the other relatives, friends, work-mates and acquaintances who have come along today" – will do perfectly.
Feeling valued and recognised makes such a difference to us all, especially in times of sadness.
Don't Push Your Own Agenda
Be sensitive to the thoughts, needs and wishes of the deceased and their family and don't use the occasion as a personal 'soap-box', however well intentioned. You, or they, may have profoundly held principles or beliefs, or none at all; the point is, it doesn't matter. There's an old saying that you should never discuss religion or politics – well if ever it was true, it is here!
Your job on the day is to be there to offer support and hope; emotions will be too raw for anything else, so be sympathetic, however alien things may be to your own views, and gently help them get through their grief. Save the rest for another time and another place, if you really feel you must.
Lighten The Load
Speaking at a funeral calls for a particularly sensitive approach, but that doesn't mean that you can't paint a picture of the deceased's life in earlier and hopefully happier times. You need to judge things carefully, of course, so not to offend, but there's nothing wrong with a small bright interlude to lighten the load.
If you happen to know, for example, that the youthful Aunty Maud only started making the sandwiches at the local cricket club after the war so she could chat up Uncle Fred, then now's a good time to share the tale. Lightly amusing stories humanise the deceased, and there's never any disrespect in doing that; when it's appropriate, there is much to be said for the idea of celebrating someone's life, rather than simply mourning their death.
Finish Well
The end of any speech is always important, but it's probably never quite so essential to get it right as it is for this kind of event, and if there was ever a time to be gentle and supportive, it's now.
Try to offer a little hope and inspiration, if you can – but do avoid false jollity. Aim for a positive message of the importance of the good times that there have been and how much everyone will miss the person who has gone. It's often particularly fitting to finish by discussing the legacy that will be left behind and the sort of memories that everyone will keep, as you draw your tribute to a close.
It's never an easy speech to make, but do it well and it really can help lessen the pain.
You might also like...