Top Tips for Nervous Speech Makers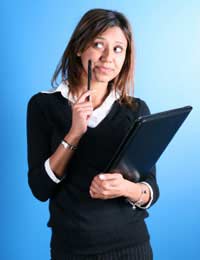 Most people view the prospect of giving a speech as a fairly daunting one, so if you're feeling a little nervous, don't worry – you're not alone!
Even professional speakers have their 'nerves' sometimes – especially before a particularly big or important event – but they know that there are ways to stop one or two butterflies-in-the-tummy turning into a full-scale fluttering flock.
So, take a deep breath and read on as we share a few top tips to help you calm your racing heart!
Be Yourself
The first one's easy – after all, you've been doing it for years. Just be yourself.
A lot of people worry that they've got to come up with something that will make them sound terribly funny, or clever or somehow 'better' than they are, and few things are guaranteed to increase the pressure on you more than trying to live up to that kind of thing. Don't; there's really no need.
Remember, it's your speech, so you don't have to try to be anyone else.
Don't Delay
However worried you feel about whole thing, don't put off getting started. The work doesn't stop once you've written your script; you'll need to practise it and probably tweak it a bit too, so be kind to yourself and give yourself plenty of time.
Writing your speech doesn't have to be nightmare, especially if you remember the next couple of points.
KISS
No – not literally! This KISS is a really useful acronym reminding us to "Keep It Short and Simple" and it's one of the best maxims for any nervous speaker to bear in mind.
Whatever the purpose of your speech, there's no rule to say that it has to go on for half an hour or more. Whether it's one of the main wedding speeches, a prize acceptance, or a memorial to someone you once knew, you can say everything you need to say in a few well chosen sentences.
Of course that isn't to suggest that you should miss out anything important, but it does mean that you don't have to feel that you need to provide an afternoon of witty entertainment for everyone. Make sure you've thanked all the people you should, mentioned all the right names and covered everything that's required – but keep it short; your audience will love you for it.
Tell A Story
Ask a lot of people to make a speech, and many of them will say "oh I couldn't, I'm not very good with words. I wouldn't know what to say." If that sounds like the way you're feeling, then here's a really great 'cheat'– get someone else to provide the content for you.
An interesting anecdote is always welcome, so ask around the group – friends and family, colleagues, club members, depending on the event you're speaking at – for anything relevant. Obviously you'll need to be a bit sensitive to the occasion and the audience – nothing too risqué or embarrassing, you understand – and you may have to do a spot of re-touching to make it work, but a good story is worth its weight in gold for any speaker.
Uncover something suitable – best of all an amusing tale or one that's not particularly well-known – and most of your work is done, so relax, you're home and dry! All you need to do now is write a good introduction and a snappy ending to slot in either side.
Practice Really Does Make Perfect
Now you've written your speech, like any other performance, it needs some rehearsal to get everything just right. Read it to yourself, say it out loud, deliver it to the bathroom mirror (a good time to work on that natural-looking smile too – it'll help you look less nervous) but whatever you do, practise, practise, practise, and then practise it again, until you literally can almost do it in your sleep.
You don't have to recite your lines off by heart – but you do have to know how to deliver them and as the old saying goes, practice makes perfect!
On The Day
When the big moment comes, do try to relax. Now, if you naturally find the whole idea of making a speech completely terrifying, telling you to relax must seem about as pointless a piece of advice as you can get. You're probably thinking you've got more chance of walking bare-foot over a bed of glowing coals and red-hot razor blades than relaxing, but it can be done. Really, it can, and here's how – and no, it doesn't have anything to do with several glasses of free bubbly! Save that sort of thing for when your part is safely over.
Firstly, don't forget to breathe! It's amazing how many people do – and all that happens is your voice sounds increasingly strangled and you give yourself a really bad headache. Just remember, "in, out, in and out" – nice and regularly, just the way you've been doing it for all these years – and you'll be fine.
Secondly, just before you start, smile. Your audience will immediately soften – you'll see it in their bodies; a little of the stiffness will go. They're warming to you already and that feels better, now doesn't it? Besides, if you are a naturally nervous speaker and you've come this far, you can allow yourself just one little smile of satisfaction, can't you?
You're entitled!
You might also like...
@Zen. Great, keep calm and confident...let us know how it goes!
GreatSpeech
- 8-Dec-14 @ 11:20 AM
Being a nervous person I would like to say thanks for the tips which I have read and have found to be very helpful as I have jotted down the main points ready to prepare my short speech for next week. I now feel much more relaxed.
Zen
- 5-Dec-14 @ 12:49 PM