Speech to Toast the Chef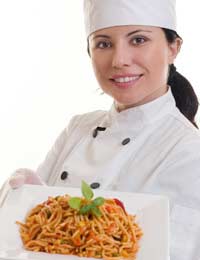 When you make a speech to toast the chef, it is important that you do not turn it into something about you. This will just make you look egotistical and will be embarrassing. Keep it short and be generous to the chef.
Preparation for a Successful Speech to Toast the Chef
First of all, you need to appreciate who is going to be hearing the speech – are you toasting the chef after a relaxed family meal, an important family meal, a corporate dinner or a friends dinner party, for example?
Your tone and content needs to be appropriate to the guests and the occasion, so here is a general template that you can use according to your circumstances. Do be aware that if there are older ladies and/or children present, the types of jokes that may go down a storm after a rugby club dinner are decidedly inappropriate here! If in doubt, leave it out.
The Importance of Timing When Making a Toast to the Chef
Your timing depends on whether or not the chef knows that you are likely to make a speech to toast his/her efforts. They will not thank you if you launch into a speech just as they have served the meal, especially if there are 'time specific' components, such as a soufflé.
The best time is most likely to be at the end of the meal, as your guests are enjoying their port or espresso and the chef has finished the most hectic part of their task.
Ask someone to call the chef into the dining room and get everyone's attention.
1. Introduction to your Speech to Toast the Chef
Start by saying thank you to the chef for the delicious meal. You may wish to mention the purpose of the meal if it is for a particular event, occasion or celebration.
Thank the chef
Highlight the reason for the special meal
Example: (Name), I just wanted to say a few words to express our appreciation of all your hard work, cooking this wonderful meal, your delicious cooking has certainly helped us to celebrate our anniversary/AGM/engagement.
2. Suitable Speech Content for a Toast to the Chef
Although you do not want to talk for too long, or you will detract from the chef's efforts, you can talk a little bit about the meal and the event in general.
Comment on one or two specifics of the meal
Talk about the event - the preceeding meeting for example
Example: On this important day, having a wonderful meal cooked for us by such a talented chef has allowed us to spend plenty of quality time together without worrying about peeling and stirring. Your skill in the kitchen has provided us with a lovely meal – I especially enjoyed the scallops/fillet steak/chocolate mousse (change dish as appropriate, or it will sound very strange!)
3. How to End Your Speech
It will be perfectly long enough if you wind up now. If you have more that you need to say to the people gathered, it would be better to have a separate speech, rather than at the same time as toasting the chef. You should conclude with the following as a guide -
Raise a toast to the chef
Say you hope to enjoy their skilled cooking in the near future
Example: If we could all raise our glass and say a big thank you to (chef's name) for the wonderful meal he/she created for us this evening/afternoon – Cheers! – and we look forward to another evening spent with your fine cooking in the near future.
Remember that the chef is likely to need to return to the kitchen, either to finish clearing up for to dismiss any staff on duty. If the chef is also a family member or friend, it would be appropriate to ask them to join you for a drink after they have finished, although not entirely necessary. If they wish to leave while you are still enjoying your post-meal drinks, you could offer a bottle of something for them to take home with them, in addition to any agreed payment. If you need to pay on the night, it is worth sorting this out before you start the meal so the chef knows they will not have to wrangle a cheque out of someone who has enjoyed a few glasses of wine!
You might also like...