Christmas Speech to Family and Friends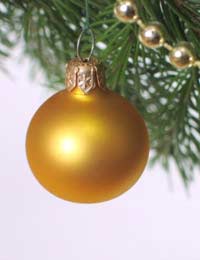 Christmas speeches for family and friends can vary a great deal, depending on the type of year you've had and the sort of atmosphere you want to create. It is important to understand how your guests are going to be feeling, and what type of reaction your speech may evoke, so that you can behave appropriately and not spoil what is a very special day.
Preparing a Christmas Speech
One practical point to bear in mind before we get into the nitty gritty of the actual content of your speech, is the timing. Those of you who have never made a Christmas dinner, or even a special roast dinner for more than four people, can have almost no idea of the preparation and stress of cooking a good Christmas dinner.
As your speech will invariably happen just prior to eating the dinner, perhaps even with the food on the table, you need to be in contact with the cook and take their timings and opinion into consideration before you launch into an hour long monologue while the sprouts go soggy. A short, heart-felt speech will suffice and not take all the credit away from the cook.
Where to Make Your Christmas Speech?
You are likely to be in the dining room, or drawing room, with your friends and family seated or gathered round. If you are all already seated around the Christmas dinner, you ought to stand up to make your speech, to add some formality and gravitas to the situation and make sure people look at you, rather than trying to peer over the turkey.
1. Opening Lines/Introduction
Either stand up, or tap your glass gently to mark the start of the speech. In some quarters this is considered terribly crass, so you may just prefer to say, "May I have your attention, please,"and then begin.
Get their attention
Have your speech prepared
Example: I am very pleased to be sharing this important meal with all of you and would like to say a few words before we enjoy this wonderful feast.
2. Main Content for a Positive Year
If your Christmas speech is a largely positive one, you could now mention a couple of key details from the year.
Highlight achievements from the year
Be appropriate to the events of the year for the people gathered
Example: It is marvellous to have the company of (name) and (name) with their new baby (name), enjoying his/her first Christmas with the family. I am also pleased to see the abundance of good food on our table, thanks to a successful year.
3. Main Content for a Sad Year
If your Christmas speech marks a sad year for some or all of your family and friends, now is a good time to acknowledge it, although be careful not to be too indulgent or upset anyone by bringing up an inappropriate matter at the dinner table.
Acknowledge a difficult year, if appropriate
Say you hope for a happier year to come
Example: As you all know, this year has been very difficult as we lost our beloved (name), although we are pleased to raise a glass in his/her memory and know that she would have loved to share this meal with all those that loved him/her.
4. Conclusion - Looking Forward to the New Year
This does not need to be a long speech and, indeed, it can be very over the top to make such a speech to friends and family at Christmas.
Example: Let's enjoy this delicious meal, so carefully and generously prepared by (name) and look forward to a successful, happy and healthy year to come. Merry Christmas!
You might also like...