Making an After Dinner Christmas Speech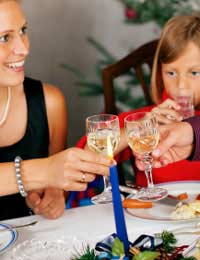 Christmas is a time for gatherings, and sometimes that calls for a speech. If you've been asked to speak at such an event, then you have an important job to do to help make the big day really special.
How you go about preparing your speech and what you say obviously depends on the type of 'do' it is; whether it's a formal business meal, or an informal family get-together, a major regimental reunion or a gathering of old friends makes a considerable difference to the tone.
However, no matter who the assembled group or where the meal's venue, here are a few simple guidelines to help you get it right.
1. Set The Tone
Your opening should set the tone for the rest of the speech, and get your audience's attention. How you start – a formal "Ladies and Gentlemen" or a "well, everyone" – really depends on the nature of the dinner and the diners, but however you open, do it confidently. If the start is tentative, everyone will be expecting even worse to follow – and switch off!
Don't dither – get off to a positive start
A little humour or an interesting statement helps catch the attention
Encourage your audience to want to listen
Example: (Ladies and Gentlemen / Well everyone) I've been asked to say a few words and after the magnificent feast we've just enjoyed together, I'm reminded of something somebody once told me about after dinner speaking. A good speech is like a good meal – it should have plenty of flavour, give you something to get your teeth into and never be delivered cold! I've always thought it was good advice and I'll try to stick to it.
2. What's The Message?
It's Christmas – no one wants to have to work too hard to understand what you're on about, so make the message simple and clear. You may have been asked to address something in particular, but if not, a quick review of the relevant year's events is becoming an increasingly popular feature of this kind of speech. You can be as serious or light-hearted as you like, or the occasion demands, but stay away from anything irreverent or too controversial – you don't want to kill the mood!
If the year's been good, celebrate the achievements
In a bad year, acknowledge the difficulties, but try not to upset anyone
Be inclusive – no one wants to be overlooked or feel forgotten
Example: It's amazing to think, as I look at all the faces around this table, that so much has happened since we all sat here this time last year. I know I would never have predicted that our little group would have seen so many (wonderful successes / real challenges) over the past 12 months. Between January's (Lottery win for Auntie Maureen / flooding) and the news last week of (Cousin John's new job / Sally's accident) I don't think there's been a single month that hasn't brought some new (cause for celebration / disaster).
3. Be Sensitive
Although for most people, Christmas is a time of happiness and celebration, do be aware that it's not necessarily a happy time for everyone. Remember to be sensitive to those who have lost loved-ones – especially recently – in your speech. Not everyone wears their heart on their sleeve, so don't assume that just because someone seems to be joining in, they must be OK; you don't need to labour the point – just allow a little space for private sadness, on this day of all days.
Even in the best of years, there are some 'downs' and vice versa
Have a general 'thought for those who aren't with us' moment
Example: So, while we've all had our (ups / downs) over the year, we mustn't forget the few (less good / wonderful) moments there were too, like when (the Major / Mary's son Steve / Gran) managed to (visit Dunkirk / break his arm / get herself arrested at the ripe old age of 96). I'm sorry that (Annie / Captain Jackson) can't be with us today and I know we all hope that (she/he) enjoys (a great time in Australia / a speedy recovery) – and now's perhaps a good time to just spare a thought for the other (loved ones / comrades) who weren't here to share this wonderful meal with us.
4. A Good Conclusion
A good speech doesn't have to be a long one – especially not at Christmas. Round off what you have to say with a cheery finale, and your job is done.
End on a positive note – something up-beat or inspirational
Say any necessary thanks
Propose a Festive toast to the assembled company
Example: I think it's this ability to cope with whatever life throws at us – good and bad – that makes this such a special group of people. Long may it stay that way! It just remains for me to thank (the cook / the organisers), wish everyone a Merry Christmas and a Happy New Year and ask you all to raise your glasses with me to (friends and family / absent friends / old comrades).
You've finished - well done! Now enjoy the rest of your day.
You might also like...