Eulogy for Elderly Family Member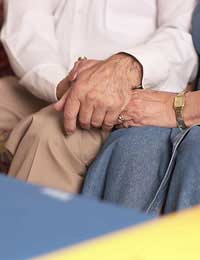 Losing an elderly family member can often be a difficult time and bring out confusing thoughts and feelings.
On the one hand, their death is unlikely to be that surprising, given their age and the passage of time, but on the other, it can still come as something of a shock – even if you're fully expecting it – to find someone that you've known all of your life is suddenly no longer around.
It's impossible to tell someone's whole life story in a few short minutes – the best you can do is pick out the high points and aim to give an overview of your relative's life, times and achievements. If you're giving the eulogy, you obviously need to think about what you're going to say – and decide how best to give a fitting tribute to the departed person.
The Life, Not The Death
Although their "end" is inevitably the most current memory, it's important not to allow it to dominate what you say. For someone who has lived to a ripe old age, their eulogy should be a celebration of their life, not a re-iteration of their recent death. It's often worthwhile asking yourself a few questions about the person and then setting out to give the answers to them in your speech.
What were their great moments and achievements in life?
How will they be remembered by those who knew them?
What is their legacy?
1. Biography Or Personal?
There are two main styles of eulogy which you might like to use, depending on the type of relationship you had with the deceased and who else may be speaking at the funeral.
Biography – a bit like a newspaper obituary, it lists the deceased's life and achievements in chronological order.
Personal – this aims to provide a less formal picture of the person and can be often be appropriate if the speaker is very much younger than the departed relative.
Examples: (Biography) John Frederick Atkins was born in Manchester in 1920 and educated at Manchester Grammar School. At the outbreak of war, he joined the 2nd Battalion of the Lancashire Fusiliers and in May the following year, he found himself part of their heroic attempt to delay German Forces long enough to allow the British Expeditionary Forces to escape from the beaches of Dunkirk.
(Personal) In all the time I'd known him, Uncle Jack never really talked about the war. I knew he'd been in the army, but it wasn't until he took me fishing as a ten-year old when we were on holiday at Ramsgate that I found out he'd been at Dunkirk. There were tears in his eyes when he told me about his friends and the little boats that brought them back to that very beach; I didn't really understand at that age, but I knew it must have been very important to make Uncle Jack cry.
2. Celebration and Humour
Pick a brief anecdote or incident that illustrates a particularly meaningful or amusing part of the deceased's life.
Eulogies don't have to be unremittingly sombre
Well-judged humour can help lift the mood and encourage everyone to remember the laughter of his/her life, as well as the tears
Use it sensitively!
Example: Probably John's greatest sporting achievement was scoring the winning try for his regimental team, which was all the more remarkable in the light of his lifelong hatred of rugby. He was later to confide that he'd only agreed to play because he'd "got his eye" on one of the girls who did the teas; that girl turned out to be Mary – his wife of 53 years until her own death last year.
3. Remembrance and Legacy
Someone who lived a long life will have met a lot of people over the years; consider how those who have known the deceased at different stages of his/her life will remember her/him. Whether you opt for a biographical of personal approach to your eulogy, at this stage, it's appropriate to ask yourself:
How will the family remember?
How will colleagues/friends recall the deceased?
What legacy will he/she leave behind?
Example: To her family, Mary will always be remembered as a loving mother, wonderful aunt and an adored grandmother. She has had an enormous influence on all of us and her calm wisdom and kindness will be sorely missed. Her friends too, will miss her; those I've spoken to, tell of a witty, kind and loyal woman – a description that anyone who ever knew her would, I'm sure, instantly recognise. It's a worthwhile legacy and one which will live on in everyone of us – children, grandchildren, nephews, nieces and friends – whenever we think of her in the days to come.
With a well-written eulogy, you can make sure your elderly relative has a fitting tribute and a send-off that truly commemorates their life and times.
You might also like...