Eulogy for a Child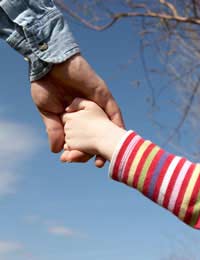 Writing the eulogy for a child is always a difficult thing to do, whether you're a friend, relative or – worst of all – the parent.
It's difficult to find the words to convey what everyone will be feeling and unlike the death of an older person, it's hard to feel that you can really "celebrate" so young a life; the inevitable sense of premature loss precludes it.
What many people facing this particular challenge often forget is that it's perfectly alright to let the emotion show, in what you say and how you say it. Frankly for many of us, it would be impossible not to – but you really don't have to feel bad about it; a sincere tear can say as much as any well-chosen word.
If you have been asked to provide a child's eulogy, then you have been given a special task to perform. Celebrate the events of that little lost life, if and where you can – and where you cannot, bring comfort to all those who grieve and offer them hope to help them through the dark days ahead.
1. Opening Remarks
There's no avoiding the fact that getting started under these circumstances is always going to be difficult, so try to express the shared feelings of sadness and bereavement that everyone is feeling. This involves everybody from the outset and you'll feel their collective support.
Share some thoughts on the death of any child
Explain how this particular loss makes you feel
Use the deceased child's name; it will be an emotional issue for everyone, but it helps make what you say relevant and more personal
Example: No one ever thinks that they'll be saying a final goodbye to a youngster; they seem too full of life and all the promise of things to come. Their futures stretch out before them – like a book waiting to be read – you don't expect to find yourself in a place like this, on a day like today, to mark the end of a life that had hardly even started. But here we all are, saying farewell to this beautiful little child, (name), long before his/her time – and that doesn't feel at all right.
2. A Little Life
Although the prevailing emotion will be one of loss, it is worth trying to find some way to inject some sense of what the child was like in life – and even a little humour if you can. Done sensitively, it can lighten the sombre mood for a moment, without trivialising or being disrespectful, but obviously do be careful; if it doesn't seem appropriate, don't force it.
What made the child particularly special to you?
Share some of your memories of the child
Invite everyone to reflect on their own personal experience of the child
Example: Although (name) was only with us for such a very short time, she/he had a huge personality and it was hard not to notice him/her, small as she/he was. That's one of the things that makes his/her sudden loss so very difficult to come to terms with – you always felt that he/she was going to be a fun child to watch growing up. Knowing that isn't going to happen is very hard to accept. I'm sure many of us here have our own special memories of her/him; I'd like to share one of mine with you now.
3. Looking To The Future
Perhaps the most important thing the eulogy can do is to support the family – and especially the grieving parents – and help them look to embracing the future without their beloved child.
In a religious setting, an appropriate theme is, of course, entirely welcome, but if the parents do not have a particular faith, obviously religion is best left out, even if you hold strong beliefs yourself – unless, of course that is why you've been asked to speak. It's all about knowing the people and being sensitive to their needs.
Offer support and sympathy
If appropriate, discuss the enduring effect of the little lost life
Example: At a time like this, there are so many different feelings – despair, anger, sorrow, confusion – and so many questions. Why did it happen? Why (name)? Amid all that, our hearts go out to (parents) and (name's) siblings/grandparents/other relatives and their close friends for the great burden that they bear today and will continue to bear in the coming days. Today, it's difficult to even begin to talk of "comfort" – but in the months and years ahead, as we remember little (name) I hope we'll all gain strength from realising, as we look back on his/her life, just how much of an affect she/he had on us in the short time we knew him/her and what a super little girl/boy (name) was.
However awful you're feeling right now, give yourself some credit; quite apart from the fact that you've just done something that's incredibly difficult for anyone to do, you've helped some desperately unhappy people through one of the worst days of their lives.
You might also like...
To provide maybe a bit of comfort to you, Ann, and please don't think me or my comments condescending - because they are not intended to be -I think the importance of "from the heart" should not be taken fro granted.But, please understand that this outline, this example is provided for those who need to write a eulogy - and the person who would look at this, I hope would use it as a resource and not copy paste.A person would look at this and use its help because they do care so much that they want to do this correctly. I am using this for my first eulogy, not word for word, but as a structure.I did not know the person, nor have I ever been to a funeral with this circumstance - it is of great help to me in that capacity. Again, I hope only to provide some insight into the other camp's way of thinking and not to offend.Be blessed.
aawferr
- 28-Aug-12 @ 5:56 PM
I don't understand Ann's comments at all. She makes no sense. This article is actually hugely helpful. At such a sad time it is a lifeline to have this example of what to say. It is a very hard thing to do so if someone gives you a lead, then take it. It is hugely important to the family that the right things are said and they are said well - funerals where people stumble and mutter their way through some badly written eulogy are a horrible experience for all concerned. This is a great help. Thank you.
saltylams
- 6-Apr-11 @ 7:52 AM
This is good, but I don't think that people would really care on how to write a eulogy if someone died, I would care more about the people who are sad than how to write something. I don't get society today, when you write a eulogy in the first place you should write it from your heart, not the internet. I find that very rude. Were did we ever go wrong?
ann
- 4-Apr-11 @ 12:48 AM