The Power of Pace and Pauses in a Speech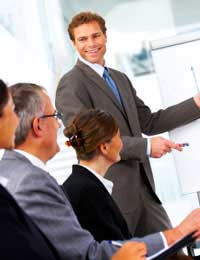 Few things are guaranteed to put even the most vibrant, supportive and interested audience to sleep as quickly as a monotonous, expressionless delivery. It's just so boring! Drone on and on without introducing any points of vocal interest and – no matter how riveting your subject, or clever the text of your speech – you'll soon be seeing those eyelids beginning to droop.
Fortunately, it needn't be a problem; just learn to utilise the power of pace and pauses in your speech and you'll always have your audience sitting upright and attentive, hanging on your every word.
Setting the Pace
Varying the speed at which you speak is a very effective way of adding some verbal colour to your speech and you can manipulate the mood by careful changes of pace. For new, or relatively inexperienced, speakers, pace control often causes some problems, since nervousness, poor editing of the content and lack of rehearsal can lead to a bit of a rush to "get it over with", so the audience is bombarded too quickly to take everything in. Practice is the solution – although, apart from the most experienced speakers, most of us will still talk a little faster on the night than we do in front of our bathroom mirrors. As a general rule, you can expect to lose at least a couple of minutes for every 15 the speech took in rehearsal.
Once you've learnt to control the urge to rush, however, you can begin to harness pace for really effective speech-making. There are plenty of ways to do this, but two of the simplest are to make sure that you:
Slow down during any particularly important parts, to add emphasis to key words or phrases
Speed up as you tell a dramatic story, to carry our audience along with you and heighten the emotion.
Perfecting Pauses
Someone once said that pauses are magical – and whoever it was, is right; they are. The next time you hear a really good speaker, either in person or on the TV, try to listen out for the pauses and you'll quickly come to understand why. Think of them as verbal punctuation marks to give your listeners the same clues that commas, full-stops and semi-colons would to readers of your written text, using short pauses to mark the end of a phrase or a sentence, before you move on. The power of pauses does not, however, stop here.
A longer pause before speaking, for instance, can be used to signal to your audience that you are about to make a point of some major importance; a long pause afterwards allows them to take on-board what you have just said, and reflect on it for a moment. Used in the main part of a speech, the long pause can also act as a way of indicating that you are making a transition from one big section or point to another, rather like the equivalent of a verbal paragraph for the listener. You can even underline their value by taking a sip of water, or adjusting your notes at this point, for added effect.
Another common use of the pause is to engage your audience by encouraging them to ponder a contentious point or a rhetorical question that you have posed them, perhaps to introduce an important point that you are about to move on to address.
Putting It All Together
Of course, none of this works in isolation; you need to pull it all together, marrying the speed of your delivery and those magical quiet moments to get the maximum benefit of the power that pace and pauses can bring to your speaking. If you can choreograph your speech, however, varying the pace to suit the mood and the moment and using your transient silences wisely, you really will see the difference – and perhaps more to the point, so will your audience!
You might also like...
thank you very much for the great works you do. I really benefit a lot from them. I would like to benefit more regarding speech delivery. please kindly advice me on new techniques. Thank you
BAS
- 19-Jul-16 @ 12:06 PM