How Well Do You Know Your Audience?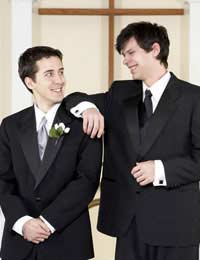 Whether you're going to speak at a wedding, a funeral or a business event, knowing your audience can be a real help when it comes to writing your speech. So, before you start scribbling ideas down on that sheet of paper, just how well do you really know your friends, family and colleagues?
Take this little light-hearted quiz to help you find out.
1. If one of your friends was a pole dancer...
(or going out with one) would you know which one?
a) Of course – and everything about the routine as well!
b) Possibly not for certain – but I bet I could guess.
c) What's a pole dancer?
2. If you had to say what each of your workmates...
did for a hobby, would you:
a) Get everyone's spot on?
b) Probably manage to get most of them right?
c) Be absolutely certain of a few but have to guess the rest?
3. At a family gathering, your cousin discovers...
that someone has sneakily eaten the last of your favourite chocolates. Do you know who?
a) Oh yes, I know all their little weaknesses!
b) I've got a pretty good idea but I'll probably have to ask around to be sure.
c) Err.... well actually, that would have been me.
4. You hear a rumour that someone you know...
has been involved in a bit of a scandal. Would you:
a) Instantly know who – and whether the gossip was true or not?
b) Probably be able to guess who and what?
c) Be surprised – and then go off and investigate for yourself?
5. Do you know where your friends keep their chocolate biscuits?
a) Yes – and which brand they all buy too.
b) Most of them, I think.
c) I do for my three best friends.
6. Someone you know is telling their favourite old joke...
Do you:
a) Make a mental note of the number of times you've heard him/her tell this one?
b) Vaguely recall it – but still get caught by the punch-line?
c) Laugh – hey, it's a joke, right?
7. When it's your turn to make the coffee at work, do you:
a) Know how everyone takes theirs?
b) Know most of them, but keep a little list just to check?
c) Have it all safely written down?
8. If you had to pick a holiday for your three best friends...
how confident would you be?
a) Very confident
b) Pretty confident
c) Absolutely confident
9. If instead you were picking a holiday for ALL of your friends...
now how confident would you be?
a) Just as confident
b) Not quite so confident
c) Much less confident
10. How well do you think friends, family and workmates know you?
a) Very well; no secrets here.
b) Fairly well, but I don't tell everyone everything.
c) A few of them know me pretty well, but otherwise I keep myself to myself.
Results
Mostly (a)s
– Not much gets past you, does it? Bond, 'M' and the whole of MI5 don't know as much about your group as you do! You know their strengths and weaknesses – and all the skeletons is all their cupboards – so be careful how you handle all those secrets when you write your speech. Knowing your audience this well gives you a great insight into how they'll respond and what's likely to work, but it also means you need to tread carefully too. Sensitivity and knowledge make a great mix for a speech!
Mostly (b)s – You know your group pretty well, but you're not always in each other's pockets, so they can still surprise you sometimes! You're sensitive enough to give them some emotional space and you realise that some aspects of their lives simply aren't any of your business. When it comes to speaking, trust your feelings – you've got the sort of natural feel for the right balance of familiarity and formality to write a brilliant speech.
Mostly (c)s – You know those close to you very well, but you're not quite so clued-up on the rest of the group, but don't worry, it doesn't have to be a problem; after all, professional speakers don't know all of their audience personally – and they manage OK! Just keep to the things you do know, don't say anything too contentious and you'll be fine.
For any speaker, knowing your audience is a big help – but if this quiz has convinced you that you really don't know them at all, don't panic, you now know you have to go and do some subtle research. Remember too, that in the end a great speech is all about what you say, not what you know!
You might also like...