Graduation Speech to Graduates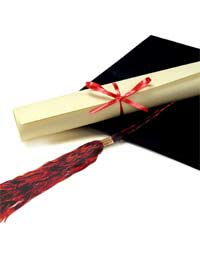 Making a graduation speech to graduates is a great responsibility and a wonderful opportunity to say something that makes an important day even more special. It is no coincidence that many films feature a moving, uplifting speech given to a room full of students – it's a chance to inspire people who have made a great achievement to go forward and do something meaningful with their lives.
If you have been chosen to make a keynote speech on graduation day, either as an honorary graduate, a representative of an organisation or a member of faculty, you need to prepare yourself thoroughly and write a speech that gives weight to the occasion.
Preparation for Your Graduation Speech to Graduates
In order to prepare you speech, you need to know who you are speaking to, how long you need to speak for and who else is going to be speaking. It is a great honour to make a graduation speech, but you don't want to repeat what perhaps the bursar or chancellor will say, nor do you want to waste the opportunity.
There may be a certain expectation of your speech if you have been asked to speak on a particular subject, or in a certain capacity. Do be aware of this by asking whoever asked you to make the speech what their requirements are.
Template For A Successful Graduation Speech to Graduates
Here is a template to give you an idea of structure, content and delivery for a successful speech to graduates. Try to include some personalised details that particularly relate to your own background, the history of the university and the group of graduates that you are addressing.
1. Introduction
Start the speech by introducing yourself, if this has not already been done sufficiently and praising the graduates on their achievement.
Introduce yourself
Say that you proud/honoured to have been asked to speak
Explain your relationship with the university or the course in particular
Example: Ladies and gentlemen, I am proud to be speaking to you on this important occasion, especially as I have sat in the same seats as you, over thirty years ago. I am honoured to have been asked to address the graduates of 2009 and I hope to be able to illustrate to you how your time spent in these lecture theatres and study rooms will stand you in good stead for an interesting and fulfilling future.
2. Main Content of the Speech
Now is the time to bring your own personal experiences of life in the big wide world. The graduates will be looking to you to show that their last four years have set them up to enter the world of work. You want to make sure that you do not sound too grandiose, but you can also highlight your achievements in order to inspire the graduates.
Share something of your own university experience
Share something of your professional achievements
Example: During my years at this university, I was particularly inspired by the notion that I was playing my own role in the history of this impressive establishment. I was keen to make sure that I utilised this privileged opportunity and learned from the great thinkers that taught me. I am grateful that I had the chance to use my studies in my professional life and am committed to highlighting the cause of x. (Now talk a little about your particular professional field.)
You, too, will be able to use your studies to grow further, for while this is the end of your university life, it is only the start of your future.
You might also like...
Full speech of a graduation party for kids
Manson
- 7-Aug-21 @ 6:33 PM
I want a sample of speech for thanksgiving service for junior high school
Yankish
- 13-May-17 @ 7:50 AM
need a sample prepared speech on election that one has won
Can any of our readers help @moisa??
GreatSpeech
- 18-Nov-14 @ 10:20 AM
Hi there! I am preparing a speech for the Foundation Phase Prize Giving ceremony and I was asking if I can be assisted with funny joke that I can share with the kids during the ceremony. Best Regards Lesiba
Moisa
- 18-Nov-14 @ 7:56 AM