School or Club Council Election Speech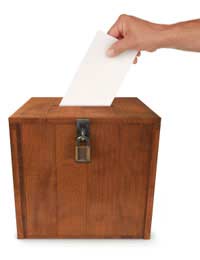 Making a speech following a school or council election win is a time to show all the people that voted for you why you are the right person for the job.
It is important to be uplifting, positive and authoritative during your speech as people will be looking to you to lead them. Although you don't want to go over the top – especially if it is a relatively small gathering for a local council, social club or school governors meeting – it is worth looking at some of the great political speeches to get some idea of the pace and delivery that works.
You will notice that politicians making such speeches are inclusive – bringing people together with a common cause is the stuff of all great rallying speeches. After all, you are representative of change, no matter in how small a capacity and, indeed, schools and local councils are often where the most noticeable change can happen.
Preparations for a Successful School, Club or Council Election Speech
It is likely that you will not actually know until the day itself if you have been appointed to the position, so you may need to prepare your speech without knowing if you will get a chance to deliver it. For some people in local clubs, such as the Rotary Club, Round Table or Labour Supporters Club, they may well have been informed of their new position and the speech is a celebration of their appointment.
Template for a Positive Election Winning Speech
Here is a template which includes suggestions for structure and content. Add in relevant details of your own achievements, the circumstances of the school/council/club and any key details about what led to the election, such as the retirement of the previous post holder.
1. Starting Your Victory Speech
Start your speech by highlighting your gratitude and that you consider it an honour to be elected. Be sure to thank everyone for voting for you and speak in tones appropriate to the feeling in the room. There will usually be a very positive, upbeat atmosphere, but sometimes a speech such as this can be for difficult reasons, so do not over emphasise your personal feelings or achievements in gaining the position, rather convey the sense that you are representing the people that have voted for you.
Your appreciation in gaining the post
Thank everyone that voted for you
Say that you will represent your colleagues/local district to the best of your ability
Example:Ladies and gentlemen, this moment marks the start of a new chapter in the story of our school/council/club. I am proud to have been voted into the position of (name of position) and I am standing in front of you to promise I will do everything in my power to make my time as (position) a successful one.
2. Reiterate What Got You Voted In For
This is the time to reiterate the policies that got you voted to the position. You need to remind people that you are the right person for the job and that their vote counted. Make it clear that you are committed to upholding the values of the people that voted for you and that you take your new appointment seriously.
You will also need to thank people for voting for you and any one else that helped you to get elected. If appropriate, now is the time to thank your family and perhaps even have them join you. However, this can be really cheesy, so do not do this unless it is appropriate. This would usually be for church appointments and other groups where family values are particularly strong.
Reiterate your policies
Make your commitment to the post clear
Thank your family and support team, if appropriate
Example:As we start this new chapter, I am keen to highlight the key points that will enable us to write a successful conclusion. My strongly held beliefs of (name your winning policies) will be what drives us forward and I am committed to working hard to achieve these aims.
I would like to thank you all most sincerely for voting for me and to promise you that your vote counted. I would also like to thank my campaign team/wife/deputy for their support. Having such a strong team behind me will give me the foundation I need to be able to serve you well, as you deserve. Thank you.
You might also like...
It's very nice and simple.I really loved it.Keep it up in publishing stunning and impressive scripts and info. in that manner and i hope that,yur page wil be one of the most visited among the rest.Thank you
Obama
- 21-Mar-17 @ 9:03 PM
this is rubbishhh it did not help me one tiny bit1
fdyhgtd
- 17-Sep-12 @ 4:03 PM